On a death schedule of 6 to 9 months to live & breath, Joey Martin Feek is negotiating with The Grim Reaper to steal some moment for her family specially for her musical husband, Rory; first Christmas, New Year, and then came Valentine's Day and now she is negotiating more for her daughter's birthday.
To make the most of the last valentines day, Joey + Rory spent their time together on this Valentine's Day and shared a picture of their emotional moment.
Joey & Rory are dressed up for the occasion; Joey is wearing her jewelry, stylish sweater and beautiful corsage. Rory is wearing jeans overall and white dress shirt. Flowers are adding up to the romantic ambience.
Rory hints the inevitable, "yes, there's a master plan… it's just not ours". In his blog, This life I live. The master plan seems to be cruel to the musical couple. Just after the birth of their daughter, Indiana who born with Down syndrome, Joey was diagnosed with cervical cancer. The cancer returned to her colon in 2015 after treatment which is terminal. Despite the surgeries and repeated treatment her cancer has returned a year later which prompted the family to stop the treatment in October. On November 9, 2015, on his blog, Rory announced that Joey was entering into end-of-life palliative care at her home in Alexandria, Indiana.
In her November interview with The Tennessean titled 'I don't fear anything' she shares her disappointment while talking about God, "I wasn't mad at him, I wasn't upset, I was just greatly disappointed. I really thought we had it. I thought, 'I'm going to be that exception. I'm going to be that statistic that stands out and says, 'She fought it.' She shared disappointment on learning the cancer was terminal."
Joey with her daughter, Indiana
"More than anything, I felt like I failed at something," she says, crying. She smooths the tassels of her shawl against the leg of her pants. "I thought I did everything," her voice breaking with emotion. "But God decided for me that my job of singing for people down here is my legacy, and he needs me singing up there. That's how I look at it."  The Tennessean, November 16, 2015
On their wedding day, Joey + Rory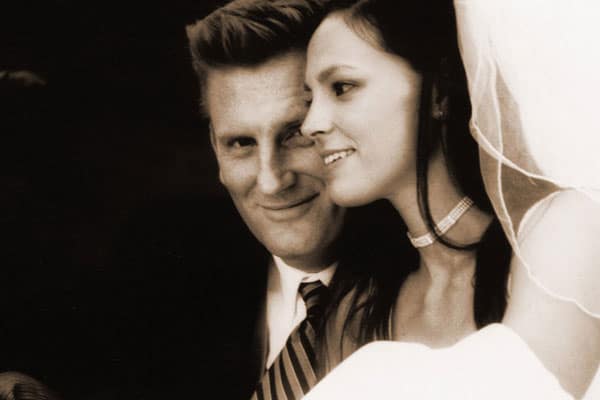 Rory, her companion in life & on stage shares his innermost desire for the left-over moments in his blog, This Life I Live
"So my hope this year instead is to hold her hand and take her on a 'virtual' walk down memory lane together… with pictures and videos on my laptop.  I want to take her back to where our lives first began together, and relive this beautiful journey that God has taken us on… from that first song she heard me sing at the Bluebird cafe, to the last one we sang together as we stood on stage and took our final bow… to the songs that she will leave behind here on earth and the ones she will soon sing for eternity to our sweet Lord in that heavenly choir up yonder."
The Unromantic Reunion: Justin Bieber & Selena Gomez To Reunite But In Court
Joey+Rory – When I'm Gone